It's Zaturday, the day we (Ziggy and Zorro) take over Mommy's blog.
Ziggy here. Every so often, boxes show up on our doorstep. It happens in both North Carolina and Florida. Zorro and I always get excited, because sometimes there's stuff in there for us. Like cat food. Lots of cat food. Bunches and bunches of cans. Litter too, which is almost as exciting as food, because nothing is better than a clean, fresh litter box.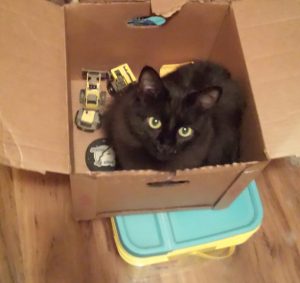 But empty boxes are pretty exciting, too. As soon as Mommy or Daddy take all the stuff out of one, Zorro and I get in. This one had toys in the bottom of it, but that didn't matter to me. It was still a box. It didn't matter to Zorro, either, because as soon as I got out, he got in.
Cardboard boxes are the best, but we'll take plastic ones, too. In fact, laundry baskets are like boxes. This one has soft, clean clothes in it, so it was much more comfortable than the box with the trucks.
I think all kitties love boxes. Zorro told me that Midnight used to love boxes, too. I never knew Midnight. He was an older kitty who was Zorro's buddy before Mommy and Daddy adopted me. Here's a picture of him in one of his favorite places—a box! Mommy named this picture, "How to fit 17 pounds of feline blubber into a 7×10 box."
Zorro and I don't fill out boxes the way Midnight used to. But I think we look just as cute!