It's Zaturday, the day we (Ziggy and Zorro) take over Mommy's blog!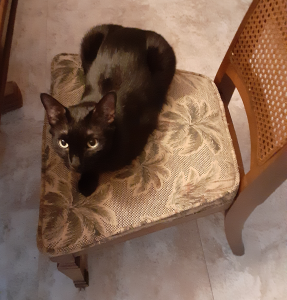 Ziggy here. The other day, Mommy said something about Daddy letting the cat out of the bag. I got all excited, but when I looked around, I didn't see any cats except Zorro. And he wasn't in a bag. He was laying on one of the dining room chairs.
But Mommy said she wasn't talking about a real cat. She said she meant "spilled the beans," which really doesn't make any more sense to me than letting the cat out of the bag. Mommy said people say that because a long time ago (before Zorro and I were even born), some farmers would put kittens in bags and sell them as piglets. When these people got home and opened the bag, a kitten would come out.
I don't see what the problem was. Why wouldn't somebody be excited to find out that they got a kitten instead of a piglet? We're a lot softer and we purr. We curl up in your lap and make great company. Pigs don't do any of that. Besides, we're really cute. I mean, look at this face:
Another weird thing that humans say is "Cat got your tongue?" Zorro and I never mess with Mommy or Daddy's tongue. That would just be weird. Zorro likes to lick Mommy's nose, though. Mommy encourages him, telling him what a sweet kitty he is. But I wonder about him sometimes.
People say other crazy things about cats, too. Like "It's raining cats and dogs." I haven't talked to any dogs, but I've never met a cat that fell out of the sky, at least not that they could remember.
And why does everyone say "scaredy-cat"? I'm not scared. I'm brave. Mommy used to have a dog that was so scared of storms she would start shaking before it even started raining. She was a "scaredy-dog." But no one ever says that. It's always the cat who gets the bad rap.
And here's another one: "There's more than one way to skin a cat." That one makes me nervous. I'm not sure what skinning a cat is, but it doesn't sound like fun. When Mommy says that, I go hide.
 But I'm not hiding now, because I just heard Mommy put our dishes in the sink. That means in a few minutes, they're going to be washed and full of fresh food. Zorro and I will be scarfing it down, because we love to eat. Hmm, I wonder if there are any cat sayings for that. I'm going to make a cat of myself…I'm catting down my food…Zorro eats like a cat…
Nah, those just don't have the right ring. We'll let the pigs, wolves and horses keep those sayings.