I just got back from a research/writing trip to North Carolina. I'm starting a new series of romantic suspense books set in the Murphy area. This is always an exciting phase of the writing process for me–checking out new locations.
This time my research took me to the Appalachian Trail. But it couldn't be just anywhere on the Trail. It had to be where the Nantahala River runs close enough to the Trail for my kayaking hero to come across my Trail-hiking, unconscious heroine. Studying Google Maps, I found I had two possibilities: near Highway 64, between Hayesville and Franklin, and Highway 74 at the Nantahala Outdoor Center.
We tried 64 first, since it was the easiest drive from Murphy. There, I ran into two problems. First, there was nowhere for my hero to launch. A single-lane dirt road branched off 64 to run along the Nantahala River. It was narrow and steep, with the terrain on one side dropping sharply toward the water, and the ground on the other rising sharply upward. Anywhere that there was possible access to the river was marked "No Trespassing." As soon as we turned onto the road, my sister (who was driving so I could take pictures) kept hoping we wouldn't meet anyone. We didn't. Instead, three law enforcement vehicles came up behind us, lights flashing. She moved as far to the right as she could, and they managed to squeeze past us without ending up in the river. A minute later, two more overtook us, these unmarked SUVs. I said, "Follow them. I might be able to get a story out of this!" In less than thirty seconds, they were out of sight. Now sure that this area wasn't going to work for my story, and knowing our chances of witnessing anything exciting were nil, we did a 43-point turnaround and headed back toward the highway.
And thus problem number two presented itself. We'd crossed the river just after leaving 64. Right before the bridge, I asked my sister to stop so I could get out and take pictures of the water. The Nantahala is a big river. I've done whitewater rafting on it more than once. Not here. This stretch is little more than a mountain stream. It was really pretty, but as you can see, there's no way someone would be able to canoe or kayak through there.
That meant it was time to check out the other location, about an hour away by car. This one was perfect. The Appalachian Trail crosses 74 at the Nantahala Outdoor Center, which is right on the Nantahala River. A few miles upstream is a nice launch area, with another one a few miles further upstream. The next task was to check out this
section of the Trail itself. Heading north from the Nantahala Outdoor Center, it's a pretty steep climb. With lots of rocks and roots to trip us up, and steep dropoffs to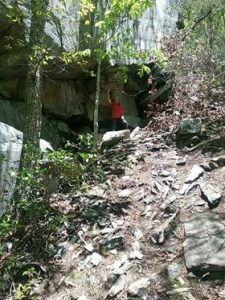 the side, I kept my eyes on the Trail. At one point, we came upon a huge outcropping of rock that would make a great place to wait out a storm. I just had to climb up there and pose. Coming back down was scarier than climbing up.
We met seven serious hikers along the way, all but one headed north, planning to hike all the way to Maine. Two of them looked like they might actually make it. The rest…not so much. The last guy was really huffing and puffing. He'd just refilled his pack with supplies, which included lots of beer. He got a really good lesson in planning that day. Next time he loads up his pack with beer, it's going to be before a nice long downhill stretch.
Hiking the Appalachian Trail has been a long-time dream of mine. I doubt that I will ever do the whole 2,200 miles, but I would love to do a decent portion of it. I haven't found anyone willing to do it with me. Until then, I guess I'll have to leave the real hard-core hiking to my heroine.