It's Zaturday, the day we (Ziggy and Zorro) take over Mommy's blog!
Ziggy here. Yesterday was Christmas! Christmas must be a really special day, because Mommy and Daddy did lots of cool stuff for us. The day before, they brought us to North Carolina to spend time with Aunt Kim and Grandma. We love North Carolina because we get to hang out in our catio and watch the squirrels and birds. This time, though, Mommy wouldn't let us go out there. She said it's too cold. I don't know how cold it is, but there's white stuff everywhere! The bird feeder is covered, and the stuff's even on our bar where we like to sit.
On Christmas morning, Mommy gave us a treat of turkey baby food. It was soooo yummy! Zorro even stood up for it.
Then Mommy and Daddy gave us presents! We knew something was going on, because earlier, Mommy sat down on the floor with rolls of paper and a plastic bag with stuff in it. When I checked out what she was doing, I smelled catnip! Zorro and I both go crazy over catnip. Mommy finally had to take everything into the bedroom and close the door, because she said she couldn't get the presents wrapped with me getting into everything.
Finally it came time to open them. Boy, was that fun! Mommy had to help us tear the paper. She said she put too much tape on it.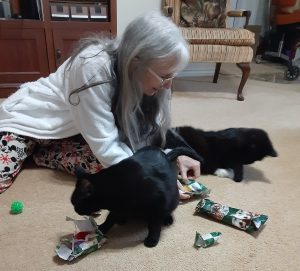 The first presents were furry mousies. I got a white one and Zorro got a brown one. The best part was that they were catnip mousies!
Mommy had to finally take them away from us to get us interested in the other presents. The next one had balls for us to play with. Some were fluffy and others had bells inside.
The last presents were bigger. I got a bird and Zorro got a pineapple, both full of catnip!
After opening our presents and playing with them for a while, we were totally worn out. So Zorro took a nap with Grandma…
and I curled up on the dining room chair.
Zorro and I think this was the best Christmas ever!