It's Zaturday, the day we (Ziggy and Zorro) take over Mommy's blog!
Zorro here. Okay, I guess it's Zunday instead of Zaturday, because Mommy's slow! She didn't get this put up when she was supposed to.
Recently, Ziggy and I went to the doctor. Mommy had to find a new doctor for us since we live in North Carolina now. Our old one is in Florida.
I checked out good, but Ziggy is too fat! I'm not surprised. He gobbles his food down then stares at me while I eat, hoping I'll leave some for him.
Daddy calls him Ziglet the Piglet. Now instead of calling "Kitty, kitty, kitty" when it's time to eat, Daddy hollers, "Sooie, sooie, sooie, pig-pig-pig," and we both come running! Mommy says it's a pig call. I don't care how they call us, as long as they feed us.
Every time Daddy calls Ziggy fat, Mommy says he's just fluffy, and Daddy reminds her that that's not what the vet says. I agree with Daddy and the vet. I think he's getting fat, especially when he pounces on me.  He's HEAVY! Even so, I don't want Mommy to put Ziggy on a diet. Since we always eat together, that would mean they'd have to give me less, too. Instead, I'm helping Ziggy get more exercise by chasing him around the house and wrestling with him.
I'm glad I have Ziggy for a buddy, even if the vet says he's fat. He helps me not to get too lonely. We hang out together in our catio…
and play with our toys together…
and take naps together…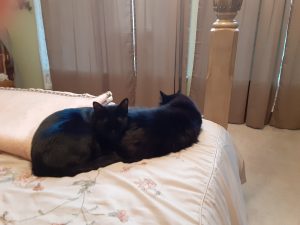 …LOTS of naps. In fact, I think it's time for another one!